Adventure Hiking Trail Guide for Thailand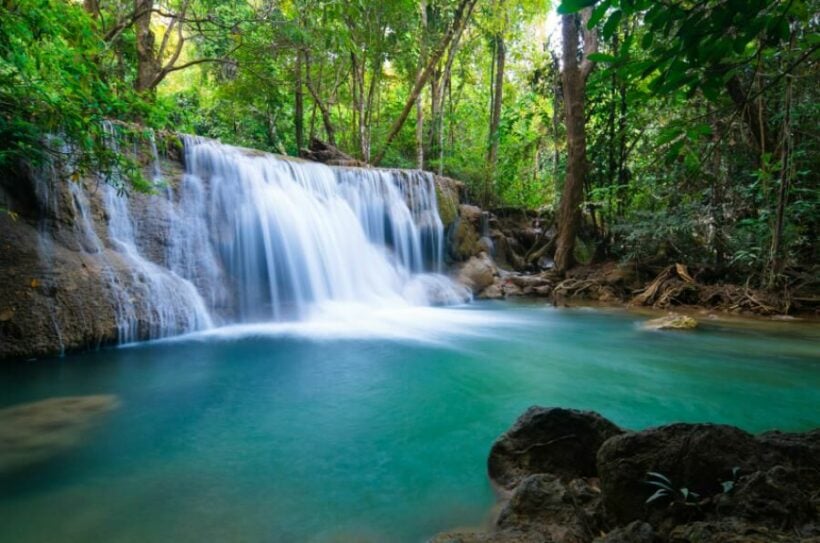 Travellers around Thailandwill surely enjoy this hiking guide to the best trails in the country. From the highest peak to beautiful waterfalls, nature lovers will love these exciting trails. With abundant rainforests abound, it is a great way to see the natural scenery, while getting some physical activity. Don't forget your mosquito spray and plenty of water, as some of these trails are, indeed, off the beaten path, leaving hikers to truly "rough it" in some areas.
Doi Luang Chiang Dao – Daen Lae Range, Chiang Mai
Doi luang Chiang Dao is Thailand's 3rd highest mountain, making it a difficult hiking trail to conquer. Thus, experienced hikers will find this 1 day hike challenging as it requires a guide to come along. Once at the top, hikers can see the neighbouring Doi Inthanon peeking out from the mountain fog. The viewpoint lets climbers see the sun set, which promises an amazing view. However, if the climb is too difficult, hikers can choose to stop at the homestay Ban Lisu where the sea of fog is near the mountain's foot. Winter is the best time to see the eery fog as it covers the entire area.
Difficulty:
Hard
Duration:
1-2 days
Address:
273 Moo 5 Chiang Dao, Chiang Dao District, Chiang Mai 50170
Doi Luang Chiang Dao
Tab Kak Hang Nak Hill Nature Trail – Ao Nang, Krabi
This trail is best to go on in the early morning to avoid the heat. As the Tab Kak Hang Nak Hill Nature Trail requires a lot of vertical climbing, it is best to bring a lot of water. Moreover, being unfit may not allow you to conquer this trail. However, once you do get to the peak, this hour-long trail will leave you breathless, not only because of the climb, but also for its view. At the top of the Dragon Crest Mountain, those more daring can try the risky task of sitting atop the tongue, where stunning views of Phang Nga Bay and Krabi can be had.
Difficulty:
Hard
Duration:
1.5- 2 hours
Address:
Nong Thale, Mueang Krabi District, Krabi 81000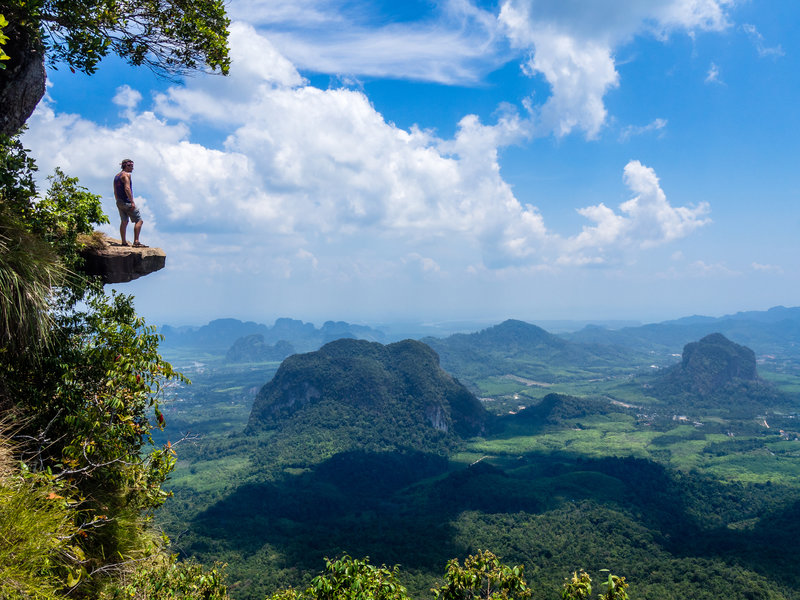 Tab Kak Hang Nak Nature Trail Hiking Trail
Phu Hin Rong Kla National Park – Phitsanulok Province
This national park features unique rock formations of The Lan Hin Taek. Thus, its name means "broken stone." Here, hikers can also see the Lan Hin Pum, or "stone buttons" formation which was once used for recovering medical patients for its breeziness. As the hike is considered moderate in difficulty, the 2-3 hour trek will surely be magnificent as cherry blossoms and other sites will be seen. To see the cherry blossoms in full bloom, it is best to conquer the trail during December to January.
Difficulty:
Moderate
Duration:
2-3 hours
Address:
Nakhon Thai, Nakhon Thai, Phitsanulok 65120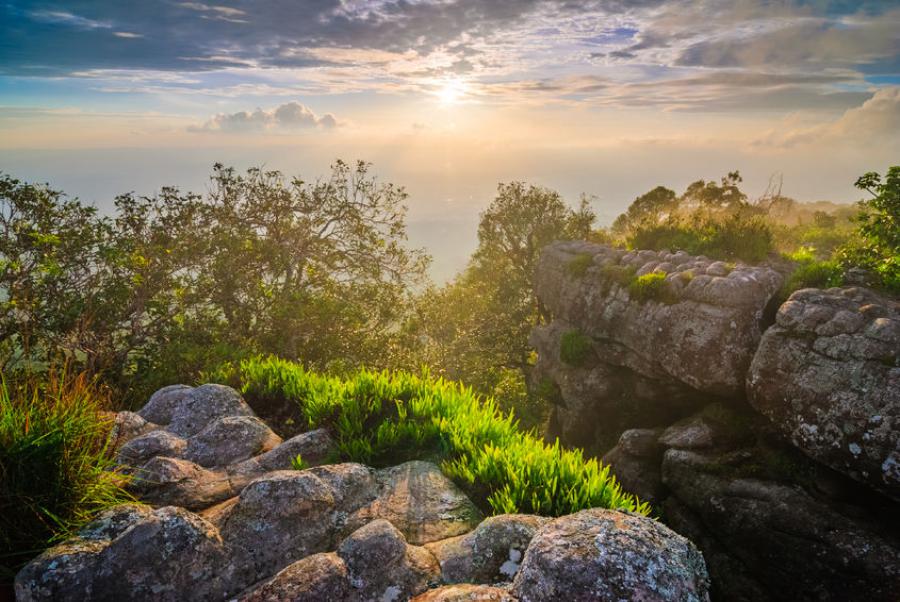 Phu Hin Rong Kla National Park
Kew Mae Pan Nature Trail – Doi Inthanon National Park, Chiang Mai
This 2-4 hike to Thailand's highest point is full of amazing scenery. The cloud forest that overlooks the valleys is one example of its beauty, while a moss-covered bridge is another. Hikers can also see twin pagodas with a beautiful garden along the way. As the trail is marked easy in difficulty, more experienced trekkers can choose to keep going towards Doi Inthanon, where they can choose to camp overnight.
Difficulty:
Easy
Duration:
2-4 hours
Address:
Ban Luang, Chom Thong District, Chiang Mai 50160
Kew Mae Pan Nature Trail
Phu Langka Forest Park – Phayao Province
hiking guide
This beautiful forest park features the perfect viewpoint for seeing islands of mountains hiding in a sea of fog. Just the fog itself, in fact, is stunning, as it envelopes the valley. Hikers who have conquered the 5-6 hour long trail usually come back in awe due to its scenery being reminiscent of an ancient landscape painting. As the journey is moderate in difficulty levels, it is best to prepare for an all day excursion.
Difficulty:
Moderate
hiking guide
Duration:
5- 6 hours
Address:
Pha Chang Noi, Pong District, Phayao 56140
Phu Langka Forest Park
Khao Mokoju – Mae Wong National Park
As its name is from the Karenic language of northern Thailand, "seems like it would rain" definitely is an accurate description of the peak's scenery. Mokoju apparently looks like a large cloud of fog from the top, as the actual peak is above the clouds, sitting at 1,964 metres above sea level. The trail takes at least a half of day of walking through a forest and then more days climbing steeply up the peak. As the difficulty level is considered hard, hikers are required to contact park rangers in advance before climbing. Moreover, there are restrictions as to the time of year when hikers can attempt the climb, with November to February being ideal. Trekkers need to prepare and bring everything with them as the park only provides a camping area.
Difficulty:
Hard
Duration:
3-5 days
Address:
Pang Ta Wai, Pang Sila Thong District, Kamphaeng Phet 62120
Khao Mokoju
Secret Buddha Garden – Koh Samui
hiking guide
This beautiful garden, also known as the Tarnim Magic Garde, sits atop Khun Nim Peak (Pom Mountain) in the tropical island of Koh Samui. The area once belonged to a retired durian fruit farmer who sculpted Thai Buddhist mythological angels and mythical statues to adorn the land. The garden is on top of a big hill, so it is recommended that you wear good shoes and bring plenty of water as it is rated a moderate difficulty level. Thus, hikers will find the 2-4 hour long trail leads them through dense forests and steep hills. What's different about this trail, is that the end features a private hilltop garden.
Difficulty:
Moderate
Duration:
2-3 hours
Address:
Na Mueang, Ko Samui District, Surat Thani 84140
The Secret Buddha Garden
Erawan Waterfalls – Kanchanaburi Province
This moderate hike leads to an impressive 7- level waterfall and is a popular spot for swimming. The pool also features a fresh fish spa, with friendly fish that will nibble at your feet. The half-hour hike is located in the Erawan National Park, in which Erawan is the name of a 3-headed elephant, ridden by the deity Indra. Hikers can choose to climb to higher levels, but the path, indeed, gets harder.
Difficulty:
Moderate
Duration:
30 minutes
hiking guide
Address:
Tha Kradan, Si Sawat District, Kanchanaburi 71250
Erawan Waterfalls
Nature lovers will surely find that trekking up mountains and through jungles is an exhilarating experience. Moreover, seeing the untouched, natural beauty of the country is something that most hikers will never forget. From exotic wildlife to fog-covered mountains, choosing to conquer an area by foot is definitely worth the journey.