International Schools in Thailand
There are many excellent international schools in Thailand, but finding the right one can be difficult. One of the biggest challenges about moving to Thailand, or any new country, will be finding the best school for your children. For the parents, choosing a good school in a new place can be a hassle. There's always a fear of making the wrong choice, and end up sending your kids to a bad school. For the children, there's all the trouble of adjusting to different education systems and languages. They also have to deal with the hassle of having to make new friends. Thus, an international school is a better option for expats kids who live in Thailand. Instead of forcing them to follow the local education curriculum, they provide an international curriculum. They also use English as the language of instruction.In addition, international schools also offer numerous advantages. These institutions provide a high quality of education. Therefore, parents can watch their children get the best education with no worries.
KIS International School, Bangkok
Next on our list of the best IB schools in Thailand is KIS International School. The school offers an academically challenging international curriculum along with a well-rounded programme of sports, creativity, and community services. Moreover, it's one of the few IB Continuum Schools in Thailand. This means that students can begin their journey of IB education right from the start. The IB programme includes IB Primary Years (age 3 – 11), IB Middle Years (age 11 – 16), and IB Diploma Programme (age 16 – 19). Located in a quiet and gated housing estate near the heart of Bangkok, KIS features thoughtfully-designed facilities to support its academic and extracurricular programmes. The Arts and Design centre is particularly outstanding, with two sun-drenched visual arts studios and a black box performing arts facility. In addition, students can enjoy a range of other world-class facilities that the school continues to add, including sporting facilities, carpentry room, 25-metre pool, indoor gymnasium, auditorium, music suites and dance studios, playgrounds, home sciences room, multipurpose hall, and lounge area. There is also a range of extracurricular activities from which to choose. These range from sports to performance and visual arts.
Address: 999 123-124 Pracha Uthit Rd, Samsen Nok, Huai Khwang, Bangkok 10310​
NIST International School, Bangkok
NIST International School first opened its door in 1992. Many considered this school as one of the best of Tier 1 international schools in Thailand. Furthermore, it is one of the few schools in Thailand that offers the full International Baccalaureate (IB) Program, as well as a variety of programmes ranging from kindergarten to high school graduation. Furthermore, NIST was the first school in Thailand to receive triple accreditation – CIS, NEASC, and ONESQA accredited them.Students in NIST International School can enjoy the top-of-the-range facilities that the school offers. The facilities include a creative arts building, counselling lounges, science labs, a sports complex (with a FIFA-standard pitch), theatre, tech centres, and more. NIST also offers 300+ extra-curricular activities (ECAs). ECAs consist of drama, sports, art, music, language, technology, and many more.
Address: 36 Sukhumvit Soi 15, Klongtoey-nua, Wattana, Bangkok 10110.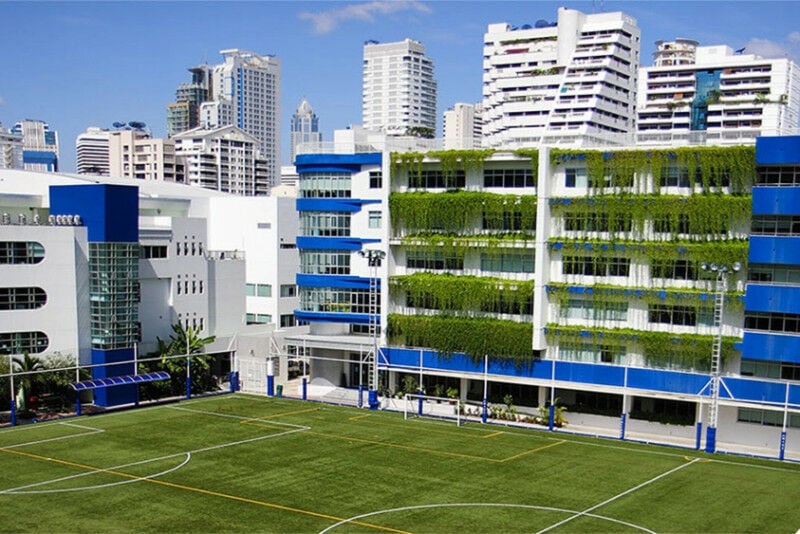 British International School, Phuket
Founded in 1996, British International School Phuket (BISP) is Phuket's largest international school. It now offers a wide range of education from pre-school (18 months old) to Year 13 (18 years old). The school offers the National Curriculum for England with an international slant. Moreover, it has consistently achieved high results in both IBDP and IGCSE exams. BISP is also known for its Aspirational Curriculum. The school runs five sports academies, including football, swimming, tennis, triathlon, and golf. In addition to sport, the Aspirational Curriculum also includes Art & Design Academy, Business Academy, and STEM Academy. Students can take part in numerous extra-curricular activities in this school, such as movie making, Thai cooking, street dancing, and touch rugby
.
BISP has one of the most beautiful campuses in Thailand. The 44-acre campus includes eight boarding houses, as well as primary and secondary schools. You can also find science labs, a refectory, art and music centres, and a 300-seat auditorium within the campus. In addition, the school is highly praised for their sports facilities, including swimming pools, football pitches, tennis courts, and a golf centre. Curriculum: IB, UK Curriculum.​
Address: 59 Moo 2, Thepkrasattri Road, T. Koh Kaew, A. Muang, Mueang Phuket District, Phuket 83000.
Regents International School Pattaya
Since its opening in 1994, Regents International School Pattaya has built up a reputation as one of the top international schools in Eastern Seabord. This all-through day and boarding school offers the British curriculum, IGCSE, and the IBDP.Regents International School Pattaya is popular for its well-rounded education. Collaborating with MIT, the school is particularly known for its innovative teaching of science, technology, engineering, arts, and mathematics (STEAM).Aside from its focus on academic excellence, it also emphasizes global citizenship, leadership, languages, and music. The school has ICT rooms and a music technology suite, along with fully-equipped art studios. Their music curriculum is based on a repertoire curated by Juilliard. Furthermore, students can join the school choirs, orchestra, tuned percussion ensemble, and rock bands. This fully inclusive school has a nursery, primary school, and secondary school. Additionally, it also provides boarding to students from Year 3 upwards. Curriculum: IB, UK Curriculum.​
Address: 33/3 Moo 1 Pong, Banglamung Chonburi Pattaya, 20, 20150.
Bangkok Patana School, Bangkok
Bangkok Patana School was founded in 1957, making it the oldest international school in Thailand. Until today, the school still maintains close ties to its British heritage. Therefore, the majority of teachers here are British, as are the students.Patana is mainly known for its excellence in the arts and sports. It has a huge art centre, with a 300-seat black box, 600-seat Rosamund Stuetzel theatre, an orchestra practice room, multi-media production studios, drama studios, and more. In addition to the arts, the school also excels in sports. It has frequent swimming galas, inter-class tournaments, sports days, an "aquathlon" run and swims challenge, as well as record-breaking competitions. The sports facilities are, without a doubt, excellent and their students can take advantage of sports fields, a sports hall with a climbing wall, mini tennis courts, dance studios, swimming pools, and many more.Curriculum: IB, UK Curriculum.
Address: Bangkok Patana School, 643 La Salle Road (Sukhumvit 105), Bangna Tai, Bangna, Bangkok 10260.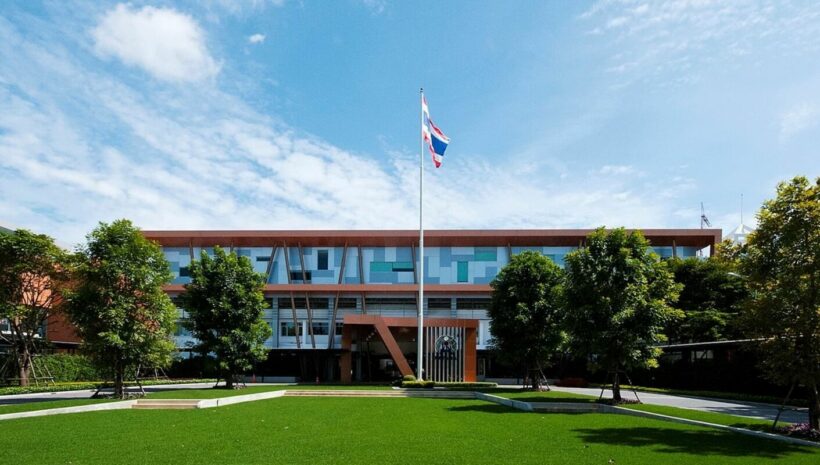 United World College (UWC) Thailand, Phuket
Like NIST International School, United World College Thailand (UWCT) is one of only a few schools in Thailand to offer the complete IB program. Thus, the school is an excellent choice for parents looking for international education for their children. The school was originally Phuket International Academy in 2009 then changed to UWC school in 2016. UWCT is acknowledged for encouraging its students to flourish intellectually, physically, and emotionally. The school is also recognized internationally for its focus on embedding mindfulness and Social-Emotional Learning (SEL). That is to say, it stands out for its holistic educational program that covers academia, service, mindfulness, and outdoor education. Sitting at the foothills of a national park in Phuket, UWCT boasts a stunning green campus. The campus includes a performing arts centre, black box theatre, sports hall, and multi-purpose hall. It is situated near the Thanyapura Health & Sports Resort. Therefore, students have access to the resort's beach volley pitch, fitness centres, sports pitches, sports courts, athletics track, and swimming pools.Curriculum: IB.
Address: 115/15 Moo 7 Thepkasattri Road, Thepkasattri, Thalang, Phuket, 83110.
American Pacific International School, Chiang Mai
American Pacific International School )APIS) is an IB World School that offers a continuum of four IB programmes, including the Primary Years Programme (PYP), Middle Years Programme (MYP), Diploma Programme (DP), and Career-related Programme (CP). It's one of the two recognised IB Continuum Schools in Chiang Mai. In addition, it's also Chiang Mai's first internationally accredited boarding school. The main campus of APIS is located in a rural setting surrounded by rice fields, farms, small villages, and resorts. This natural setting offers students special chances to learn outside of the classroom and to spend free time in nature. Volleyball, Futsal, Soccer, Basketball, Swimming, Badminton, Cross Country, Track and Field, Ping Pong, Chess, and Model United Nations (MUN) are just a handful of the many co-curricular activities available at the school.
Address: 158/1 Moo 3 Hangdong-Samoeng Road, Banpong, Hangdong, Chiangmai 50230​
​