The Best Beach Hotels in Thailand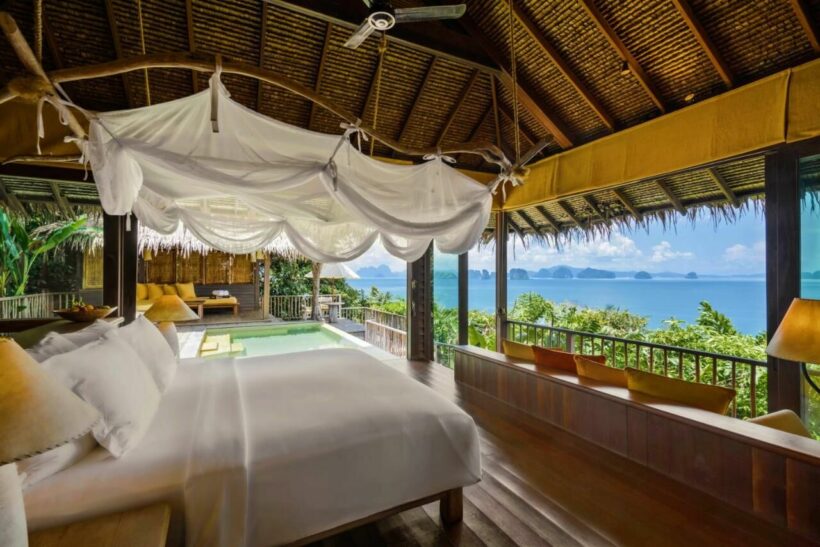 ​
Six Sense Yao Noi
A holiday in Thailand never complete without a trip to its breathtaking beaches. This Southeast Asian country is home to gorgeous stretches of white-sand beaches, turquoise water, and tropical scenery, making it the perfect place to unwind by the water. If you're planning to enjoy a tropical holiday and relax on a beach in the Land of Smiles, there's no better way to spend it than by staying in a beach hotel. The beach is basically on your doorstep, so you can get your healthy dose of sun, sea, and sand practically whenever you want.
Layana Resort and Spa
Layana Resort and Spa is one of the most incredible beach hotels you'll find in Thailand. Perched on the very edge of a beach in Koh Lanta, this adults-only resort is a serene slice of paradise with modern Thai-style architecture, lush tropical gardens, and direct access to a stunning white-sand beach. You can choose between Garden Pavilions nestled among the resort's landscaped gardens with mountain views or the exclusive Beach Villas with private terraces and the beach just a few steps away from your door. If you want a truly discreet private environment, you can choose the La Maison Villa, which is the most luxurious type of accommodation in Layana Resort and Spa that comes with two bedrooms and a large private pool. In addition, the resort also offers a spa, fitness centre, and saltwater infinity pool. The on-site restaurant is not to be missed as well. It offers both delicious international and local Thai cuisine. There's also the Sundowner Bar and Lounge, where you can watch the sunset.
Price: Starts from approximately 4,165 THB per night.
Address: 272 Moo 3, Saladan, Krabi, 81150 Ko Lanta, Thailand.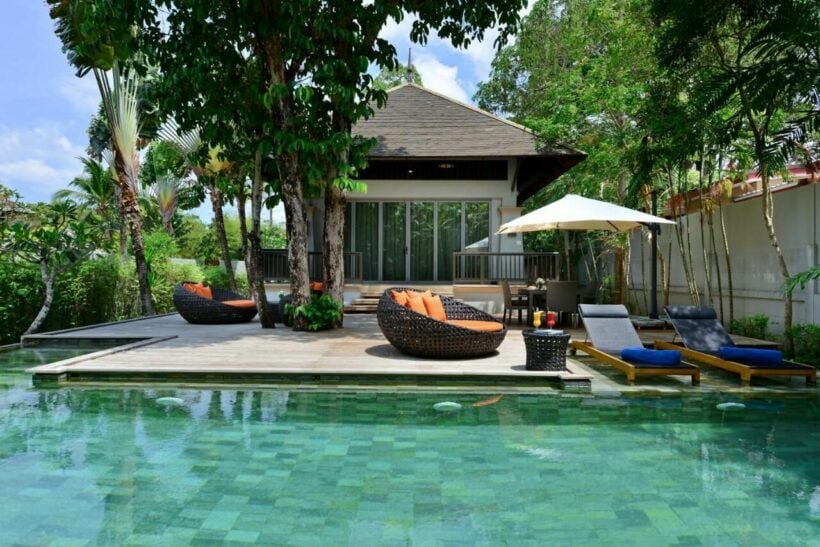 ​
Layana Resort and Spa – La Maison Villa
Pullman Phuket Arcadia Naithon Beach
Located in the quiet Naithon Beach area, Pullman Phuket Arcadia Naithon Beach is a tranquil paradise away from other properties. Due to its location, the charming beach is almost exclusive. If you're lucky, you may even have the beach all to yourself. The rooms are all spacious and stylishly furnished with contemporary decor. Each room comes with a balcony that faces out to Naithon Beach and the Andaman Sea. Moreover, the hotel provides numerous excellent facilities, such as a spa centre, outdoor pools, a children's pool, and a gym. There's also a wooden deck above the beach, surrounded by lush greenery, which is a beautiful spot for outdoor yoga.
Price: Starts from approximately 4,748 THB.
Address: 22/2 Moo 4 Tambo Saku, Amphur Talang, 83110 Nai Thon Beach, Thailand..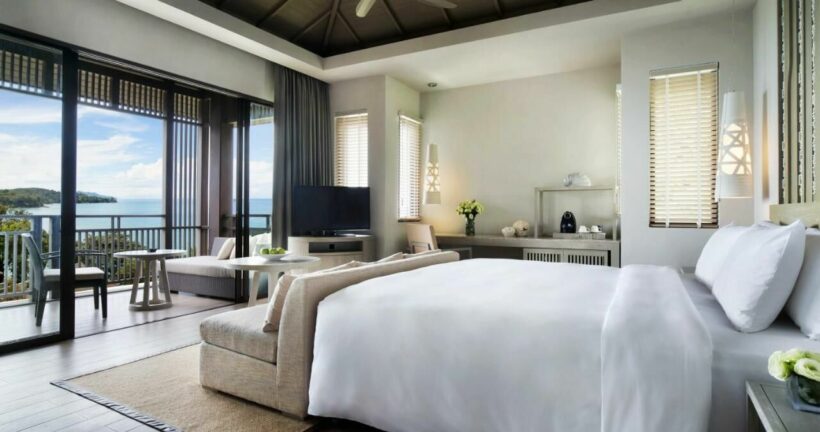 ​
Pullman Phuket Arcadia Naithon Beach – Grand Deluxe Room with Ocean View
Anantara Lawana Koh Samui Resort
Another beach hotel you need to consider in Koh Samui is Anantara Lawana Koh Samui Resort. This 122-villa resort is heaven for foodies. From a private candlelit barbecue on the beach to a feast of sizzling Thai stir-fries at the pool bar, you are truly spoilt for choice here. In addition to the amazing food, you may also spend your time in its outdoor infinity pool overlooking the ocean or relax in its first-rate spa. The Thai-style villas are all spacious. Each come with private balconies with outdoor seating. A range of water sports and trips are available as well, so you can enjoy your beach vacation to the fullest.
Price: Starts from approximately 6,659 THB per night.
Address: 92/1 Moo 2, Tambon Bophut, Amphur, 84320 Chaweng, Thailand.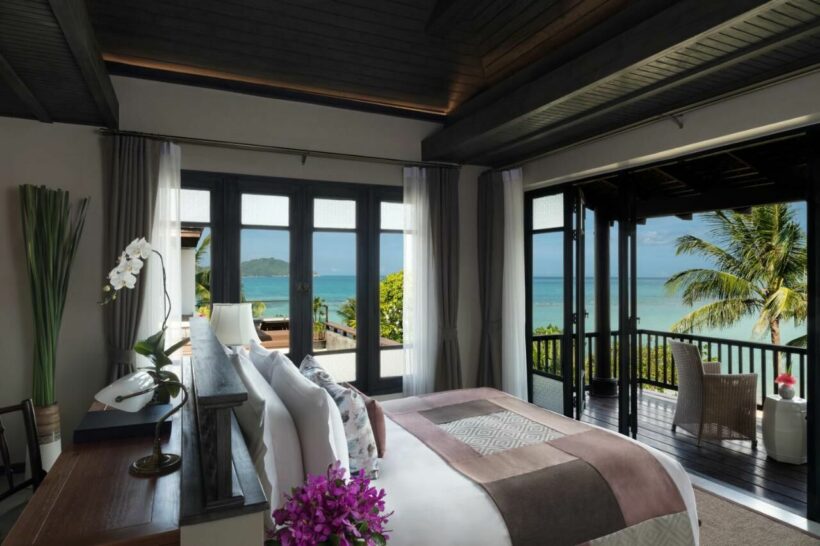 ​
Anantara Lawana Koh Samui Resort – Two Bedroom Pool Villa
COMO Point Yamu
Located at the tip of Cape Yamu, COMO Point Yamu is a stylish and luxurious hotel with dramatic views. The hotel sits atop a promontory and overlooks the beautiful UNESCO-protected Phang Nga Bay and the Andaman Sea. Therefore, if you are craving a room with an uninterrupted ocean view, you should put this hotel on your list. Besides the beautiful rooms with sweeping views of the ocean, thrill-seekers can enjoy rock climbing, diving, or speeding through the mangroves on an ATV. However, if you want a more relaxed holiday, the hotel also has an outstanding wellness offering. From energizing health dishes to garden yoga, COMO Point Yamu is the perfect place to find serenity.
Price: Starts from approximately 8,832 per night.
Address: 225 Moo 7, Talang, Paklok, Phuket, 83110 Ban Pa Khlok, Thailand.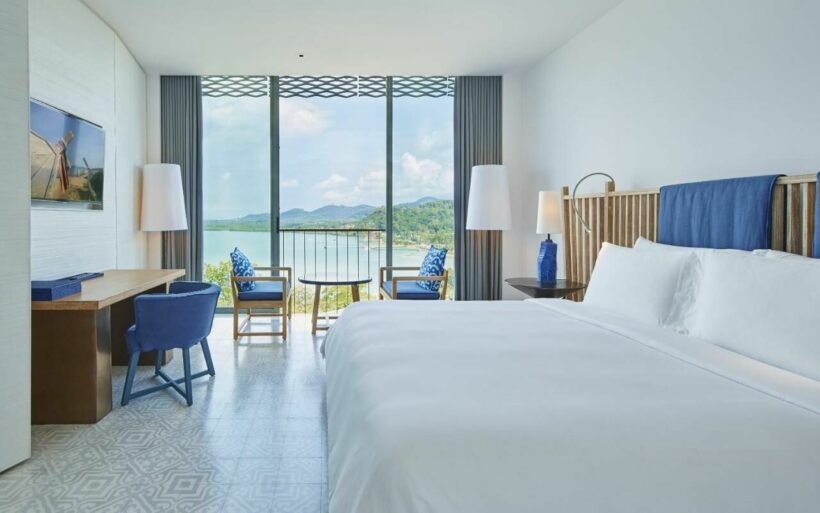 ​
COMO Point Yamu – Bay Room
Rayavadee
If you want to be enveloped by nature,
Rayavadee
may be the perfect choice for you. Located right at the heart of Phra Nang Peninsula on the edge of Krabi Marine National Park, this beach hotel offers a secluded and luxurious gateway. It is surrounded on all sides by tropical gardens and beaches. Therefore, you can enjoy the astounding views of lush jungles and the sparkling waters of the Andaman Sea.
Rayavadee also offers a wide range of activities, such as water sports, Thai cooking classes, and even batik painting for those who are adventurous.
Price: Starts from approximately 11,123 THB.
Address: 214 Moo 2 T. Ao Nang, Muang, Krabi, 81000 Railay Beach, Thailand.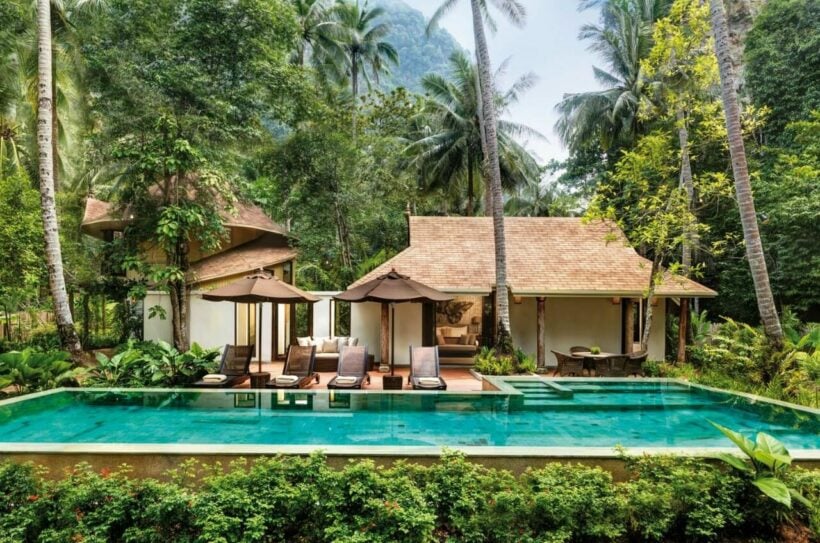 ​
Rayavadee – Villa With Private Pool
Banyan Tree Koh Samui
Situated in a series of cascading terraces on a private hill, Banyan Tree Samui provides an isolated hideaway. It's an all-villa resort with private pools and hot tubs. From the private terrace of each spacious villa, you can enjoy sweeping views of tropical greenery or the captivating ocean. Except for the other hotel guests, you can have complete privacy on the palm-fringed beach. You also have access to canoeing, snorkelling, and sailing equipment. You may also indulge in the relaxing body treatments and massages offered by the resort. In fact, Banyan Tree Samui is home to the largest Hydrotherapy Spa in the region.
Price: Pool villas start from approximately 17,471 THB per night.
Address: 9/9 Moo 4, Maret, Koh Samui, Surat Thani, 84310 Lamai, Thailand.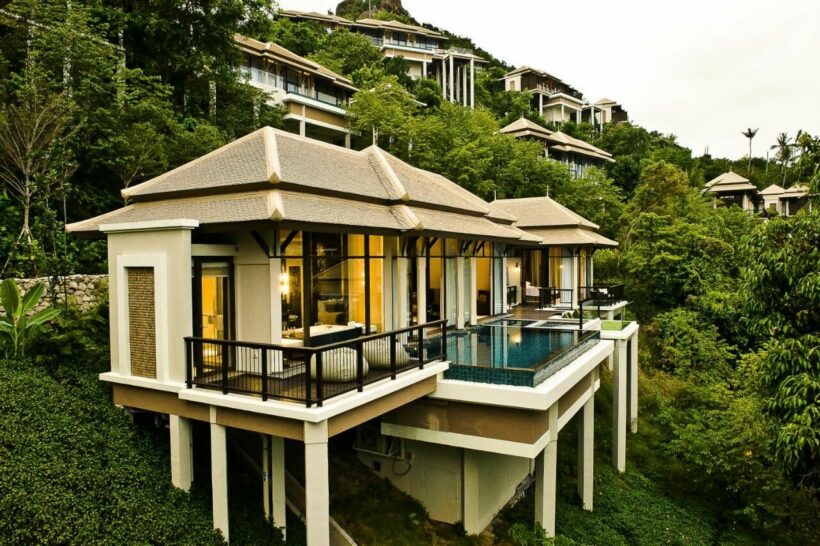 ​
Banyan Tree Samui – Family Ocean Pool Villa
Four Seasons Resort Koh Samui
Offering gorgeous villas with private plunge pools and personalized service, it's easy to see why Four Seasons Resort Koh Samui is popular among those looking for a romantic gateway. Situated at the northwest corner of Koh Samui, the resort's remoteness provide serenity. It is an ideal choice for those who just want to relax. The villas come with private terraces, plunge pools, and incredible ocean views. However, those who want to try exhilarating activities can participate in the numerous complimentary classes, such as kite-making classes. Moreover, the resort also offers a watersports centre, a Muay Thai boxing ring, private cinema, and a sublime spa.
Price: Starts from approximately 18,617 THB.
Address: 219 Moo 5, Angthong, Koh Samui, Surat Thani, 84140 Mae Nam, Thailand.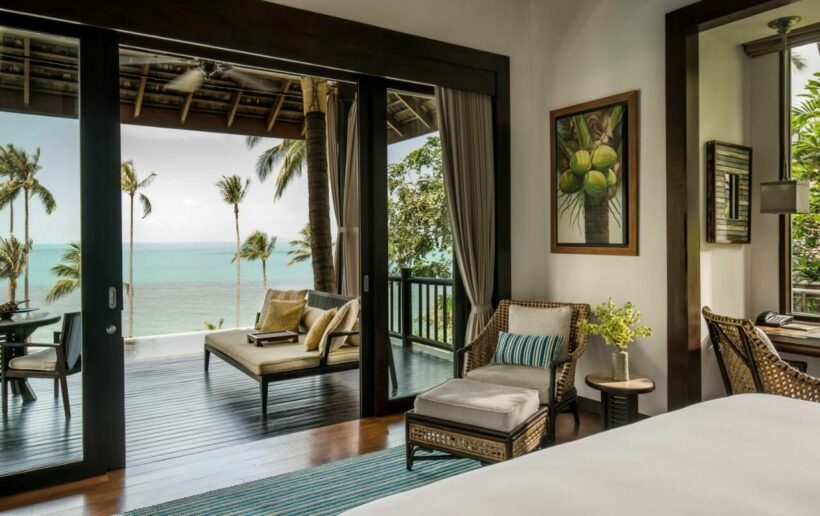 ​
Four Seasons Resort Koh Samui – Beach Front Pool Villa
Six Senses Yao Noi
Six Sense Yao Nai is the perfect place to go for those craving both privacy and adventure. Located in the beautiful Phang Nga Bay, it features 56 elevated pool villa accommodations. Each villa provides generous personal space, and you can choose between ocean or mountain vies. The ocean view villas offer glorious vistas over the beautiful Andaman Sea. On the other hand, the mountain villas have idyllic views of rubber trees.
In addition, Six Senses Yao Noi also offer exceptional activities. You can go on an island-hopping tour and sail across stunning lagoons or even take a Muay Thai Class.
Price: Pool villas start from approximately 23,376 THB per night.
Address: 56 Moo 5, Tambol Koh Yao Noi, 82160 Ko Yao Noi, Thailand.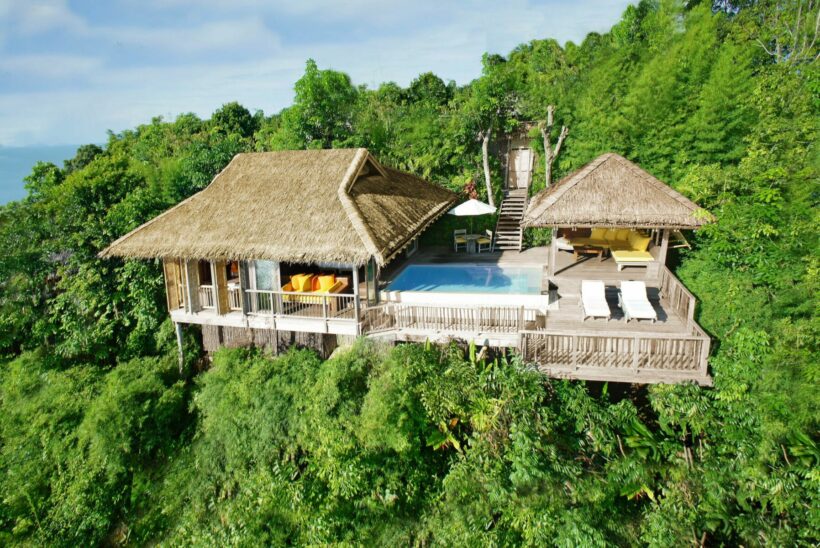 ​
Six Sense Yao Noi – One Bedroom Pool Villa